Hey there, gorgeous! How the heck are ya? Hope all is well. We're having a lovely time right now with the weather being totally gorge, and our calendar not-so-crammed. Meal planning has sort of taken a backseat, too, making way for easier a la carte dining with simple ingredients and lots of wiggle room in recipes. One of our favorite quick dinners is a doctored up mac and cheese made from a box mix and added flavors. Do you doctor up your mac and cheese? It's somewhat of a staple around here for when we need something substantial fast.
I don't think it matters what brand of boxed mac and cheese you start with, as long as you're already a fan. We like the Annie's Organic varieties, but a good 'ol Kraft mix works just as well. We always make sure to heavily salt the pot of boiling water before adding the dry noodles, because the Master Chefs on TV told us to. And we throw the cooking instructions away – we obviously aren't following directions when creating our own mac and cheese masterpiece!
I think the key to our favorite mac and cheese successes is making sure we use equal parts creamy to flavor to veggies. Extra cheese is also a MUST. That powdered stuff just isn't going to cut it. We do use the powder, but we also always add extra cheesy goodness. Basically, cook the noodles in salted water, add some butter and then include some of the following:
Creamy Ingredients
Sour Cream
Milk or substitute
Greek Yogurt
Cream Cheese
Blended Silken Tofu
Creamy Soup Mix (cream of mushroom or chicken, maybe?)
Cheese: shredded cheddar, swiss, Gruyère, crumbled feta, blue cheese, goat cheese, Laughing Cow cheese wedges or other flavored soft/spreadable cheese – or whatever your favorite is!
Ideally, a combo of all the above.
Added Extras
Crunchy Vegetable: broccoli, peas, asparagus, brussels sprouts, shredded carrots
Soft Vegetable: diced tomatoes, sautéed onions, peppers or mushrooms, wilted spinach
Marinated roasted red peppers
Marinated artichoke hearts
Olives
Capers
Minced Garlic
Chives
Green Onions
Dill, Rosemary, Basil, Parsley, Cilantro or other herb of your choice
Chopped Pickles
Protein
Meats (always cooked first): sausage, bacon, diced pepperoni or salami, chicken strips, ground meat, "fake" meat, leftovers
Seafood: shrimp, canned tuna, canned or cooked salmon, diced anchovies, scallops
Beans: baked beans, heated chopped black bean burger patties, and canned or cooked black or pinto are great!
Cooked Quinoa
Flavor Enhancer Ingredients
Liquid Smoke
Worcestershire Sauce
Mustard (any variety)
Pepper
Garlic Salt (or any dry spice that suits your fancy!)
Hot Sauce
Salsa
Soy Sauce
Sesame Oil
Crushed Croutons
Favorite Combos
Sour cream, almond milk, shredded cheddar, asparagus, spinach, basil, chopped tomatoes, minced garlic, worcestershire sauce, mustard
Cream cheese, soy milk, broccoli, canned salmon, shredded carrots, liquid smoke, garlic salt
Greek yogurt, Lactaid milk, crumbled feta, spinach, marinated artichoke hearts, chopped tomatoes,  basil, minced garlic, green onions, worcestershire sauce, mustard
Sour cream, soft cheese wedges, chives, olives, canned tuna, hot sauce, garlic salt and crushed croutons
Tips
Add crunchy vegetables to the water prior to boiling and adding dry macaroni.
Heat your "sauce" before adding cooked macaroni: add cheese powder, creamy ingredients, added extras and flavor enhancer ingredients to empty pot (warmed from cooking macaroni) and melt everything together over low heat before re-introducing cooked mac and proteins.
If using crushed croutons, sprinkle over the top of finished dish.
Do you doctor your mac and cheese? We just made some tonight with sour cream, Lactaid, shredded cheddar, diced green onions and tomatoes, minced garlic, canned salmon, worcestershire sauce, hot sauce and pepper. SO YUMMY and super easy! I'd love to hear what you do to your boxed macaroni and cheese mix to put your own spin on it 🙂
xoxo, amy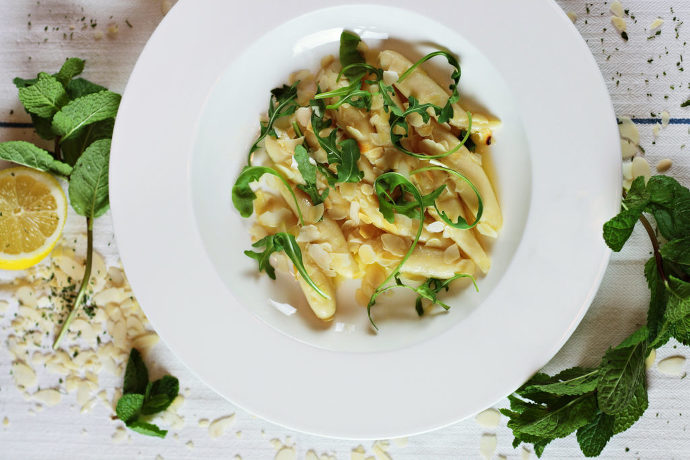 Photos via Unsplash