This guy. Oy. You know, at the risk of sounding like a crazy dog lady, this dude right here is one of the best things in this life, like, ever. Joe being the first, obvs. I feel like the last three years have been one of those time-lapse AND slow-motion videos all at the same time. I'm so excited to say happy third gotcha day, Jones!
Time seems to stand still, and I remember the day we found Jones like it was this morning. I'd finally convinced that husband guy to get a puppy after years of begging. I sent him endless pictures for weeks when he finally agreed. Each one was unbelievably adorable, with a fluffy pile of fur and impossibly sweet face. All of them one kind of "oodle" mix or another (I was going for a shed-free dogger). And every single one received a no-go from that husband guy. I finally expanded my search, and we found a pup he agreed on. She was a rescue and also impossibly cute. We decided to meet at the pet store to introduce ourselves.
*Have I told you this story yet? Please scroll ahead if I have!*
happy third gotcha day, jones!
Sadly, the sweet girl we meant to save was not destined for our home. As we were walking out, me totally dejected and Joe probably a little relieved, a similar pup caught my eye. "What about him?" I asked innocently. This little, white, freckled body surrounded by people and dogs and chaos was standing at his gate peering out, tail wagging, smile upon his face. I honestly didn't give him much credit. He was a quick afterthought as we exited stage left, but he was cute, so why not? Joe darted straight for him, and the recuse organization quickly filled us in: "Happy little guy!Just learned to sit,such a good boy and great in his kennel,do you wanna pet him,do you wanna get in the kennel with him?He's suchagoodboylookhowhappyheistoseeyou!!" You guys, they DID NOT stop for air. Our boy gazed at Joe, wagging his little tail, shooting out TakeMeHome daggers from his piercing gold eyes. Joe commanded this little pupper to sit, and the freaking dog SAT and that husband guy fell in love and I was skeptical. But I wanted a dog, SO.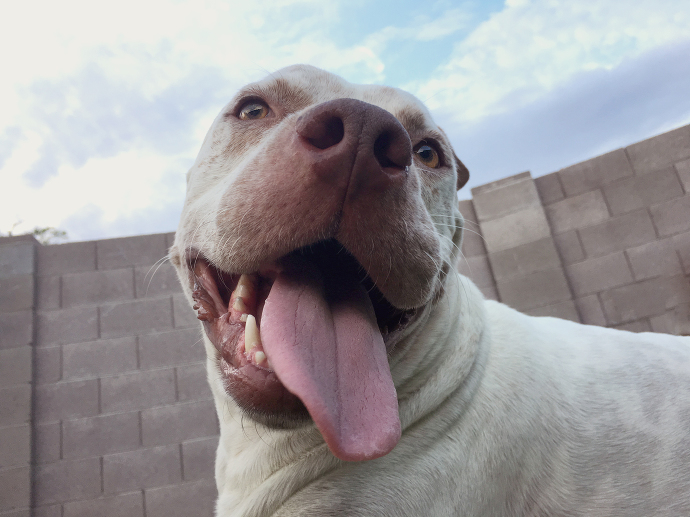 thank goodness jones was so cute
I looked at this cutie and thought, "Oh. A pit bull mix. Not an 'oodle.'" I wanted an "oodle." But I begged. For years. For a DOG. And here sits this darling four-legger that that husband guy wants to bring home with us. Why would I argue? Joe picked out a harness, let our new dog pick his bed, got the favorite toy from his foster mama (thank you, Randi – it's long loved and history by now!) and stocked up on food and treats. Joe took this non-oodle pup home in his truck while I payed all the adoption fees and shouted directions after him. I'd done so.much.research. Listen to me! I worried the whole way home about Smith's safety, his first intro to our house, if he'd pee on our floor. Yes, "Smith." I was convinced our Jonesie would be "Smith." Another story for another time, my friends. I found Joe doting over our new Jones when I got home and the rest is history.
how life goes now: three years in
And for the slow-motion version? It's true that this guy needs a ton of exercise. Also a fact: he can be destructive without getting at least an hour of heart-pumping cardio a day (i.e. a couple sets of blinds and kennels and fence posts = destroyed. #jerkface). Aside from that, though, this amber-eyed lover comforted me through some serious grief the last couple years. He learns new tricks like a boss and loves our nieces and nephews as no human can. He's been a blessing. At this point, I could give a $h*t about the "oodle" he lacks.
Jones follows our kiddo's commands, chases the endless balls they throw and dotes after them as if that husband guy and I are incapable of properly caring for children. He's definitely the "nanny dog" you hear about.
Joneser's favorite place is at our feet. At.All.Times. We've been working on building his independence and confidence. #NotEasy But we are dedicated to his growth, and know he's capable of anything. He gets multiple dog park visits a week, daily walks at the tune of thirty minutes or more – often twice daily because those amber eyes don't quit – training time, hiking, playing with "his" children, pouting regularly, and treats beyond what any dog requires. I admit, I get a little "crazy dog lady" with researching new ways to challenge and reward this little beast. And he rewards us with his never-ending love and loyalty. Fair trade, yeah?
I love you Jones. And I strive to love, unconditionally, the way you do. Happy Third Gotcha Day, dear boy!
xoxo, amy