How was your weekend?!? We celebrated by going to Lake Havasu to relax, see our dear friends and observe all the debauchery. Lake Havasu is something else. If you've never been, it's a little hard to describe. First of all, driving in is like, all huge garages and ugly desert at a certain point, then BAM! Lush bits and pieces, then whoops! Back to ugly. More garages. HUGE garages.  Gotta accommodate all those water and desert toys!
Lake Havasu City isn't anything too pretty (apologies to all the locals). It's ALL desert with few trees or foliage, mostly houses and buildings, and brown, brown, brown. Tan, cream, chocolate colored… brown. Surrounded by mountains, at least there's something in the distance to look at beyond the dirt, sand and cacti. But mostly, it's just… desert. And as mentioned, obscene garages, with lots of them attached to obscene houses. Spoiler alert: if your into real estate, you'll find it gorgeous!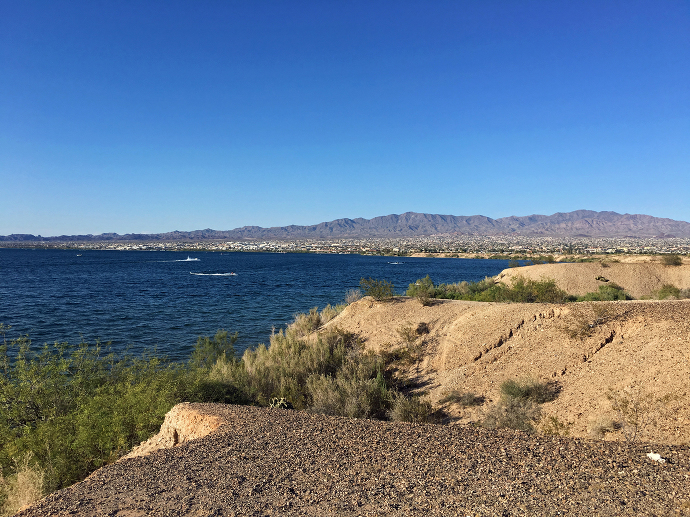 Until you get to the actual lake at Lake Havasu, that is.
Then it's a rave of colors in the form of boats, bathing suits and characters. There's a channel under the bridge, and those with boats like to pimp them out and parade them through said channel, blaring music and posing in teeny, tiny, itsy bitsy – sometime nonexistent – bikinis. The boats are works of art, definitely deserving of a little show! As far as photography though, it's a little rough. Sure – I could take pictures of all the people stuffed into too-small, teensy bathing suits (or lack thereof), but I'm not really into that sort of photography.
When we first started going to Havasu, we wanted to be on the lake, partying with everyone else. We've spent lots of time in the water: tubing, water skiing, playing. We've done our share of playing. Now that we've been there, done that, it's kind of cool to be a spectator. The young crowd gets younger every year – more wild and self-absorbed. And it's quite the (entertaining) show!
Like those tired folks before us, we can usually find our happy medium in Havasu.  We like to enjoy the breweries, the scene, the beauty.  Just not the way the newbies do, apparently.






Lake Havasu City houses a few neat breweries, including Mudshark and College Street , our favorites. They offer delicious infused and amber brews, to satisfy Joe and I both. Their food is good, too. There are a few others, if you're into a pub crawl.
My favorite Lake Havasu moments? Those quiet ones, finding hidden shores and enjoying the lapping water on the earth, laughing over nothing with friends. Relaxing, napping and losing track of time. We had a wonderful vacation!
I hope you found a little bit of wonderful in the long weekend, while remembering those on distant, past shores who gave everything for all in the US to enjoy what we do. Itsy bitsy teenie weenie yellow polka dot bikinis and all.