Oh, he-ay! How was your week? We were a little lazy around here, enjoying our place when there wasn't any work happening, and trying to ignore the dust and chaos when it was. I mentioned that we are currently undergoing a kitchen renovation, and it's been super interesting for me since I am totally unfamiliar with the process and what to expect, really. This kind of thing is far more Joe's speed, and he's been so chill about it all that it's kept me sane so far, too. I love that husband guy of mine when he isn't driving me crazy!
But the decorating process? That's all a fun game! Surprisingly, Joe and I have agreed on much of the core design of our new kitchen renovation. We happen to have similar tastes, thank goodness, and while we don't always see eye-to-eye, we are pretty "transitional" in our decorating style. We both like contemporary design (him more than me probably) mixed with traditional elements. Stone, glass, wood, metal – all of these are fair game. While it's pretty trendy right now, traditional style has been our go-to for a long, long time. And for good reason: it's a mix of classic with some pretty safe yet trending design pieces mixed in. Combine it with bohemian, earthy and random accessories, and we've got us a solid transitional decorating plan!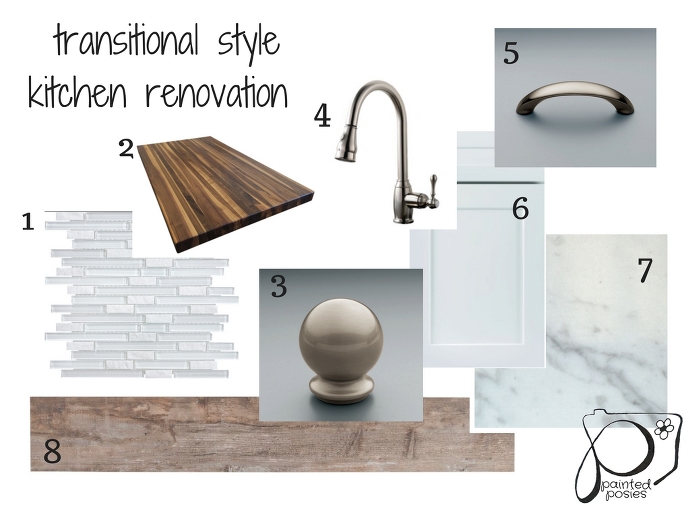 sources: 1 | 2 | 3 | 4 | 5 | 6 | 7 | 8
Our kitchen renovation design picks
Wood-like porcelain tile flooring with a hint of grey wash to it, simple white cabinets, Carrera marble quartz and walnut butcher block countertops, brushed nickel handles and pull knobs, and a cool white glass mosaic backsplash with different textures and variations. I HAD to have the butcher block, Joe HAD to have the marble look. So we compromised! Everything else fell into place without any resistance on either front, and so I was pretty sure it was meant to be.
As far as the actual "renovation" portion of the project, we are bumping out a wall to add five feet of space to the existing kitchen. We're also rearranging some cabinetry and the island to better utilize the space and make room for all of our family and friends to hang out and grub.
And since our kitchen opens up to the living room with a clear line of sight from the front door, we are redoing the floors in the entire space to make it more cohesive. Or, more accurately, to prevent me from giving our living room the side-eye later. HA!
I'll be sure to keep you updated on the process and of course, the finished product. In the meantime, here's hoping no-one, ahem*me*, has a breakdown between now and then.
Have a great weekend, ladies and gents! xoxo