"HEY YOU GUUUYS!" Yeah, The Goonies. You've gotta love The Goonies, people. Like, seriously – don't tell me you don't, I'll just be bummed. And if you tell me you like paying your cable/satellite bill every month, I'll know you're just a liar 😉 Nah, na na na: we ditched cable and still watch everything!!! Seriously though, we were paying upwards of $250 a month for our satellite and then when we switched to cable to "save money." THAT bill grew exponentially with service seriously sucking. We just couldn't justify paying such a high, unnecessary bill anymore! We've had friends look at us like we have extra limbs when we tell them we ditched cable and still watch everything we want. So I thought I'd share how we do it – and trust me, there are lots of ways.
how we ditched cable and still watch everything
We didn't want to sacrifice our TV time when deciding to end our cable bill, so the route we chose is personal to our preferences and viewing style. Which is: we love HBO, require HD, enjoy movies on demand, and need programming on our schedule. We also wanted to pay less than $100 a month. Here's what we did to divorce our high monthly entertainment bill and still watch everything we want:
bought a streaming box
We chose Apple TV as our streaming box because we're a solid Apple household. For those who are anti-A, you could also get a Roku, Chromecast, Amazon Fire or Android TV. Apple made sense to us, but I hear they're all comparable. You can also stream on the newest gaming stations that have internet, and probably smart TVs by now (but I wouldn't know!). Streaming boxes use apps via the internet to load TV, movies, YouTube, etc, straight to you. Our Apple TV integrates with all our other devices and we are familiar/love the way Apple products work. BTW, I'm not getting paid to say that or anything, so seriously choose what works best for your liking! They all seem to be around $200.
made sure our internet is up to speed
We could only ditch the cable like this with high-speed, wireless internet. We've had that all along, so choosing a streaming box was a no-brainer. If you need to upgrade internet, I bet it's cheaper than the satellite or cable bill you're paying. But not like, an actual bet, because I have no idea what internet bills are like in your world. Our internet is about $70.
got a tv antenna for local channels – if you need that sort of thing
And we need that sort of thing. I like to be able to watch the news if I feel brave that day. TV antennas are cheap enough – like less than $100. They allow you to watch network television whenever you want, which may be never after you get yourself set up!
signed up for HBO NOW, Hulu and Netflix
HBO NOW for, well, for HBO. Because Game of Thrones, VEEP, movies, documentaries, comedy specials. You know the gig.  Hulu for network shows that play with minimal (or no) commercials, when YOU want to watch them. And Netflix for last season's shows (without commercials), movies, documentaries, original series, comedy shows, etc, etc. You know about Netflix already, right?
Totals: HBO NOW $14.99 month | Hulu $7.99 month w/limited commercials and $11.99 month without (includes Showtime!) | Netflix Standard Plan $9.99 (no HD is $7.99 and Premium is $11.99 for multiple TVs)
stopped worrying about a DVR, over-inflated cable bill or frustrating remote interface
Who needs a DVR when you can stream whatever you want, when you want? We can forget about our irritating bill every month when we are just paying a SMALL fraction for streaming apps. And the dumb remote interface we hated so much with the menu system and seriously delayed search function is Gone Girl. Our Apple TV remote is bomb, with Siri searchability and touch tracking system. Plus, no batteries – you charge it with a regular 'ol Apple charging chord.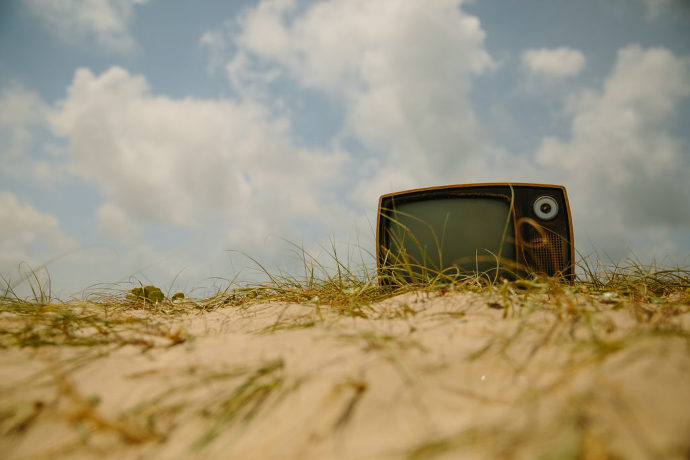 What we pay per month: $24.98 How? Well, we consider our internet bill exempt, since we pay that with or without a streaming service. We have HBO NOW and Netflix Standard Plan, and we share a Hulu account with a friend. Aside from the initial investment, and paying extra for movie rentals, we are easily saving 90% each month NOT paying a cable or satellite company. And we get to watch anything.we.want.
With an initial investment of about $400, we've been enjoying our streaming TV for a couple years now with no complaints. We have to be a little patient for The Walking Dead on Netflix, but then, we have to be equally tolerant for our favorite shows on to come into season on HBO. That husband guy has been really into YouTube videos recently, and I'm loving exploring new-to-me shows on Netflix. Otherwise, I keep up with New Girl and Modern Family on Hulu. I don't feel like I'm missing a thing!
Did you ditch cable? What is your method? I'd love to hear!