You guys. Did you notice April, even? It flew right on by for me… My April consisted of planning my next trip to LA, a beer fest, going to kid's recitals and t-ball games, Easter, relaxing, getting all the things DONE, encouraging our grass and roses to come back, hanging with that husband guy and Jones, chores chores and more chores, and generally just acknowledging that summer is not holding back this year. So I mean, in summary: April has been pretty busy/lovely (insert heart-eyed emoji here!). Unfortunately, the only photos marking April are a retirement party and random iPhone shots… So, for this delayed WEW April 2017 edition, I thought I'd share some cute candid photos that I shot while having a good time. Read: consuming alcohol and celebrating my MIL new retirement at a super-fun celebration. The photos turned out well, considering my buzz level – don't judge!
WEW April 2017
Here's the Camera Raw data, in case you wonder about that sort of thing: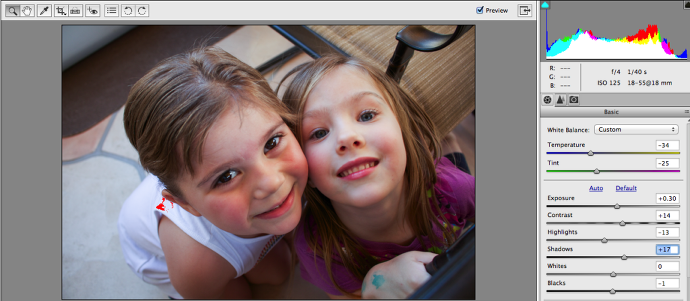 Obviously, I fine-tuned the finished photo a bit, since it was a little too magenta and dark for my tastes. I also cropped and hid some food stains on little miss' face on the right. If I were editing for prints, I'd have: brightened their eyes, removed the stamp on that little hand, cropped out the chair in the background, took out some of the hair whisps and probably applied a filter.
This guy, though! His little tongue, mischievous eyes and chubby hands and cheeks OMG. Here's his BEFORE:

You can see I brightened the photo more slightly and cropped it. I also added some highlights to the green shirt on the right so the fold wasn't so distracting on the cropped picture. Again, I'd sharpen the eyes and probably darken the background if this were a printed photo.
OK, last one:
Looking at this "AFTER" now, I wonder if I needed to crop it so much? I think the cute red socks with the turquoise polo is a good contrast. And the photo suffered a little blur by cropping so close… I also see that I lost some cute detail on the baby's hand by getting so close and brightening so much. It's good to remember that sometimes the sweetest bits are lost by over-editing…
WEW April 2017: Wandering Eye Wednesday over and out! What photos did you capture last month? Share them – we'd love to see!
xoxo, amy